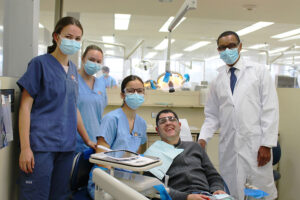 Lionel Carmant, MP for Taillon and Minister for Health and Social Services of the Government of Québec attended a unified soccer activity this Thursday at the TELUS-University Laval Stadium. It was 46 students from the Faculty of Dentistry at Laval University and 46 Special Olympics Québec athletes, from maison des adultes de Québec and the Phénix des Rivières team, who competed in a friendly and good mood.
This unified soccer game, organized by Special Olympics Quebec in collaboration with the Faculty of Dentistry of Laval University, was held as part of the Healthy Community program. After the game, while the athletes benefited from a screening examination of their dental health provided by the students of the Faculty, Tristan Delmas, Director of Healthy Communities at Special Olympics Quebec presented the intervention model to the Minister Delegate Carmen. This is an innovative win-win concept that makes it possible to offer health services to athletes living with an intellectual disability as well as training for future dentists so that they develop the skills enabling them to intervene adequately with this clientele. A leading social inclusion tool developed by Special Olympics.
Several distinguished guests were present: from Laval University, Dr. Cathia Bergeron, Full Professor and Dean of the Faculty of Dentistry; André Darveau, vice-rector for administration; Robert Beauregard, Executive Vice-Rector and Vice-Rector, Academic and Student Affairs; Aimée Dawson, associate professor in community dental health, Martin Caouette, holder of the Self-determination and Handicap Chair at the University of Quebec at Trois-Rivières, Dr. Denise Lanouette, director of the Bouche et dents en santé clinic and Dr. François Giroux, director of the Healthy Feet Clinic. The delegation of the association Down Up, who came from France as part of a learning trip funded by the Franco-Quebec Office for Youth was also present.
Special Olympics Québec would like to thank all the participants who contributed to the success of this activity.